1972 Lamborghini Jarama GT Dual Sunroof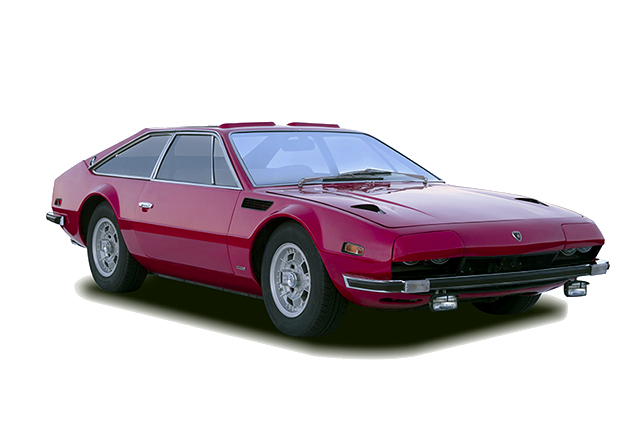 Introduction
Precious Metals is proud to present this very rare and unique 1972 dual sunroof Lamborghini Jarama. This unique vehicle represents part of an important collection of vintage Lamborghinis that we have, preserved, restored, and maintained since 2002. Our featured 1972 Lamborghini Jarama was invited, as a centerpiece display of the 2012 Concorso Italiano, under the direct guidance and invite of Tom McDowell and Lilli Bertone. As the only Jarama in attendance, this beautiful, grand tourer was an integral part of the center piece display of Concorso Italiano, which takes place during the Pebble Beach Monterey week. The 2012 Concorso Italiano event was very special as it honored the 100th anniversary of arguably one of the greatest production and industrial design companies ever known, Gruppo Bertone. Setting the precedence of this event, Lilli Bertone wrote in a letter to collectors and enthusiasts Bertone has produced some of the most beautiful and historically important automobiles. It is my hope that many of these cars can be brought to this special centennial event.
Bertone: A brief history
During the course of the last 100 years Gruppo Bertone has seen much change in both design and leadership. In 1912 Giovanni Bertone opened Carrozzerieria Bertone as a shop specialized in the manufacturing of horse drawn carriages. When World War One broke out Giovanni was forced to close his shop. After The Great War, Giovanni's focus switched from horse drawn carriages to automobiles. This was a time of great technological developments in the auto industry, but unfortunately war had broken out again. World War two was a time of great hardship for Carrozzeria Bertone, as it was for many others, but the post war era ushered in new leadership and vision. It was after World War Two that Giovanni's son Giuseppe "Nuccio" Bertone took over Carrozzeria Bertone. Nuccio Bertone reformatted Carrozzeria Bertone to handle the production side of the business, and Nuccio added a new entity to handle the design work, Stile Bertone.
It was during Nuccio Bertone's tenure that some of the most famous automobiles were developed, such as the Alfa Romeo BAT 5, 7, and 9 cars. Other post war cars Bertone designed consist of the, Alfa Romeo Guilietta sprint, Guilietta SS, Lamborghini's Muira, Countach, the Lancia Stratos, Ferrari's 308GT4, the Fiat dino coupe, and the Maserati Khamsin. Bertone even designed scooters for the Italian scooter company Lambretta. In the 1960's Under Nuccio Bertone, the design studios at Bertone pushed the envelope of industrial design by fusing elements of abstraction, sculpture, architecture, and automotive design to produce some of the world's most interesting concept cars such as the Marzal, Bravo, and the Athon. The emphasis of this design approach is now a tradition at Gruppo Bertone. Nuccio Bertone passed away in 1997, but his widow Lilli Bertone has worked to maintain the relevance and tradition of Gruppo Bertone's design work, which is evident in cars such as the BAT11, and Nuccio.
Lamborghini and Bertone
Bertone had a strong relationship with Lamborghini starting in the 1960's. The two companies relationship strengthened after Carrozzeria Touring, the company Lamborghini had been using for its coach work (bodies and chassis), closed its doors. Lamborghini had the mechanical engineering in place, thanks to individuals such as Giotto Bizarrini who engineered Lamborghini's four cam twelve cylinder power plant, but they now lacked a designer. At this point Lamborghini was using the Marazzi Company to actually build some of their bodies, but Lamborghini needed a design company, preferably one with a production background. Bertone's company was a logical choice for Lamborghini for a few reasons. First Bertone had never worked with Ferrari at that point, so there would be no conflicting interest. Secondly Bertone had attracted some very great design talent such as Giorgetto Giugiario followed by Marcello Gandini. Working with Bertone Lamborghini created some of their greatest cars such as, Lamborghini Muira, Lamborghini Espada, Lamborghini Countach, Lamborghini Urraco, and the Lamborghini Jarama.
How the Jarama came to be
In many ways the Lamborghini Jarama was a design for the 1970's. The late 1960's yielded some adversity for the production of Lamborghini's GT cars. The American market dictated new safety and emission rules for all 1968 models, and this was poor timing for Lamborghini who had just released their new Lamborghini Islero. In 1968 Carrozzeria touring, the company that was responsible for the styling of the Lamborghini 350GT and the Lamborghini 400GT, had been defunct for quite some time, but a group of former Touring employees banded together to form a new company named Marazzi. By 1968 the young coach work firm Marazzi had constructed the last of the 400GT bodies, and with a lot of input from Ferrucio Lamborghini, had already designed and was producing the Islero body. The new U.S. requirements made it clear, a new mark II Islero would have to be designed and engineered if Lamborghini was to keep the US market.
The technical aspects of engineering and development fell to Lamborghini's engineer Paolo Stanzani, and the styling duties were delegated to Stile Bertone's Marcello Gandini. Needing to engineer a U.S. compliant grand touring car as soon as possible, Stanzani saw the obvious solution of shortening a Lamborghini Espada chassis about 11 inches. Bertone designed the Lamborghini Espada, so it only seemed logical for Bertone to design the Lamborghini Jarama as well. Marazzi was used to construct the bodies, from stamped panels provided by Bertone. The mechanical underpinnings were of no challenge from a development standpoint because they were already in place. For example, Lamborghini's legendary 60 degree V12 engine displacing 3929cc was employed, as was their in house designed five speed transmission. The end result was a heavy 3593lbs of grand tourer; that could supposedly be propelled to a top speed of 162mph with just 350 horsepower (the later Jarma S was rated at 365 horse power). The Lamborghini Jarama was intended to be the conservative choice for the wealthy businessman looking for a grand touring car. However, the late 1960's brought new management to Lamborghini, and that management directed its' focus to new mid engine models (namely the Lamborghini Countach and the Lamborghini Urraco). This was due to speculation that the traditional front engine GT 2+2 platform was dated, and would be unfashionable in the decade to come. This reasoning was supported by the hard fact that production numbers of Lamborghini's GT cars had been on the exclusive side since the beginning; especially so, when compared to the popular Lamborghini Espada and the Lamborghini Muira. For example in 1978 when Lamborghini Espada production ceased, the company had produced 1217 of the four seater saloon cars, and this was about 179 more units than all 350GT, 400GT, Islero, Islero S, Jarama, and Jarama S models combined! Conversely Jarama production initially saw 177 units followed by 150 Jarama S models. As a result Lamborghini grand touring cars are the rarest type of car produced by the marquee, and as such, the Jarama holds a special place in Lamborghini history as the last front engine 2+2 grand touring car Lamborghini would ever produce.
The Collection's Jarama #10344
The beautiful and rare Lamborghini Jarama featured on this page is chassis number 10344, and is an especially intriguing example. #10344 is designated as a Lamborghini Jarama GT which denotes this example as one of the 177 non S cars. This car features the front fender vents, which some have incorrectly attributed as distinct to the Lamborghini Jarama S models, but what is even more interesting is that this non "S" example has the rare option of twin sunroofs. In preparation for the 2012 Bertone centennial Celebration at Concorso Italiano #10344 was treated to a new leather interior (painstakingly matched, and hand crafted to the original leather patterns), and expertly restored bumpers as well as other chrome components. The engine compartment was thoroughly refurbished including, refinishing of the air filter housings (including the correct screen printed graphics), period correct coating of the expansion tank, and an exact recreation of the under hood pad was made. The trunk was also restored, as was the grill, front fog lights, NACA scoops, front fender vents, and wheels. The owner has always made sure #10344 has been maintained and well kept, so for event preparation our staff only had to focus on the cosmetic rather than the mechanical. The end result was Jarama #10344 prepared to a high standard, which allowed the rare Lamborghini to sit next to the latest Bertone concept Nuccio on stage, and also be included in the center piece display of the 2012 Concorso Italiano. This Lamborghini is a very secure and solid feeling car on the road, and with its' emphasis on style over ergonomics, it is always noticed. In short, the Jarama is an important car to the history of Lamborghini, because it represents the end of a special breed of car, which was in fact Ferrucio Lamborghini's original and purest intention. The staff at Precious Metals is proud to be responsible for preserving this unique piece of automotive history.