1969 Lamborghini Islero 400GTS - Chassis # 6643 - Engine #50215
Metallic Dark Green with White interior. Import to Switzerland and sold by Garages Foitek. #6643 was once offered for sale in London, GB by the famous Pullicino brothers when they had their company Classico, somewhere in 1989. It was also in Germany and Featured in the German classic Magazine MotorKlassik While there, in February 2001 it was owned by Julian McManus in Miami, Florida.
It now resides with Perry Mansfieled M.D. in San Diego California as of September 2003.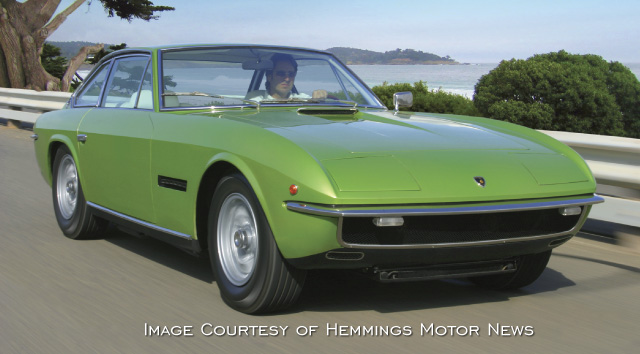 Lamborghini has been associated with over-the-top mid-engined cars for so many decades now--Miura, Countach, Diablo, Gallardo--it's easy to forget that the company's original stock-in-trade was in very quick GT cars with a traditional front-engine, rear-drive driveline. (Well, Lamborghini's original stock-in-trade was farm tractors, but that's another story.)
The Touring-styled 350GT and 400GT 2+2 had been well-received, in keeping with their initial brief to out-Ferrari Ferrari, but in the face of the revolutionary mid-engined Miura launched in 1966, suddenly nothing else the company did mattered: The 350GT quickly went away, and Lamborghini's other car, the 400GT, disappeared off enthusiasts' radar screens in the long shadow of the Miura. Around the same time (late 1966), Carozzeria Touring, which designed and built the 350GT and 400GT 2+2 bodies, had gone under-- and surely this didn't help matters either. The Islero's basic structure (a welded squaretube steel chassis) and fully independent suspension was carried over from the 400GT 2+2 and remained sound, but events conspired toward creating a new body, in order to freshen things up.
Styling chores fell to Mario Marazzi, a newcomer and relative unknown whose workforce consisted mainly of former Touring workers; he penned a new body for the existing 400 GT 2+2 chassis under Ferruccio Lamborghini's own direction. The new styling was far more angular than the 400GT 2+2 and its organic curves, the cabin offered improved visibility, thanks to all-new glass, and the overall effect was rakish, if subdued. The bumperettes that shoot up alongside and over the taillamps were considered a remarkable styling treatment in their day. Bodies were assembled and completed at Carozzeria Marazzi, outside Milan, then transported to the Lamborghini works at Sant'Agata for completion. The interior was completely new as well, offering freshened seats and a well-stocked instrument panel. The resulting new model ditched the alphanumeric titles of its immediate predecessor, as Ferruccio Lamborghini went with his recently established tradition of naming cars for Spanish fighting bulls. He called the new car Islero: the name of a killer bull from the Miura ranch, which had famously gored (and ultimately killed) famed Spanish bullfighter Manolete in 1947.
The engine remained the same Weber-fed, Bizzarrini-developed four-liter V-12 that had powered both the 400GT 2+2 and the sensational Miura, and at launch the Islero had 325 horsepower (more than the 400GT 2+2, thanks to a compression bump to 10.5:1). A wider front track (thanks in part to the Campagnolo alloy wheels; early production models had Borrani wires) and thicker anti-roll bars were among the suspension changes.
Yet the big American car mags--Car and Driver, Road & Track and Motor Trend--never bothered to road-test one. (Car magazine of England dared to put one on its April 1969 cover, however, saying, "this may well become the nicest to drive, and the most consistent in behaviour of all Lambos...," and "we part[ed] with the Islero with real regret, for this breed of bull is obviously very strong and willing.")
Critics have complained that the Islero wasn't flashy enough (even the fawning Car opined, "What started out as an insipid body...is fast becoming handsome"), and seen with 40 years of hindsight, it seems remarkable that it wears the charging bull crest at all. This, of course, was the point: Islero was a GT meant for those who wanted all of the performance but none of the glitter and attention. (Years later, it remains nearly invisible in the pantheon of Lamborghinis, and you could well argue that Marazzi followed the old man's brief a little too closely.) Ferruccio himself drove an Islero as his personal car during the years it was manufactured, if that tells you anything.
Turns out, the Islero has something of a bad reputation when it comes to build quality. While the Touring-era Lamborghinis were considered very well-finished, the Marazzi-built Isleros were famously slapdash regarding panel fit inside and out. Fenders rubbed on doors, sloppy welds cut weatherstripping, the headlamp doors wouldn't center in their holes, the rear bumpers couldn't be straightened. The Islero felt handbuilt--but more in a kit-car kind of way than in a bespoke, $20,000-price-tag way, which didn't go over terribly well with Lamborghini's high-end clientele.
More power to Lamborghini (literally and figuratively) for trying to make things right as quick as they could. For 1969, Lamborghini launched the hairier Islero S, which sported Miura S cams, 10.8:1 compression, and a stout 350hp power rating (though the torque rating remained unchanged). The body received gently flared wheel openings, a hoodmounted air intake and a cooling vent ahead of each door; a new instrument panel and seats perked up the interior. Rocker switches replaced pull-type switches on the instrument panel, and a glovebox was introduced. Build quality was said to be considerably better, though still not to Touring standards, and not nearly enough to lift Islero out of its doldrums; just 100 S models were built before Islero production shut down in early 1970. Published plans to build 12 to 13 Isleros a month never came to fruition, and roughly two per week rolled out of Sant'Agata during the model's short life.
Often, low-production cars are the ones that get everyone's attention today--because they're low production. The more rare, the more valuable, right? But the Islero bucks that trend: It's still rare, and is a fine performer no matter how you slice it, yet it doesn't have the degree of fame that the mid-engined V-12 cars do. And so the Islero is virtually forgotten.
In the classic-car trade, there have been Isleros advertised from years as early as 1967 and as late as 1972; while all were built in 1968, 1969 and the early weeks of 1970, the early date may be the result of some private-import paperwork fudging, while the later dates are probably initial registration dates rather than build dates. Also, the build quality is said to be rough enough that few, if any, unrestored examples are left; rule of thumb dictates that if things fit properly, it's probably been redone.