1966 Lamborghini 400GT 2+2 "Galich" Racecar
Chassis # 0586 - Engine # 0536
The Racing Lamborghini
Competition-hardened machinery out of Sant'Agata is few and far between, but this 400GT 2+2 has documented provenance.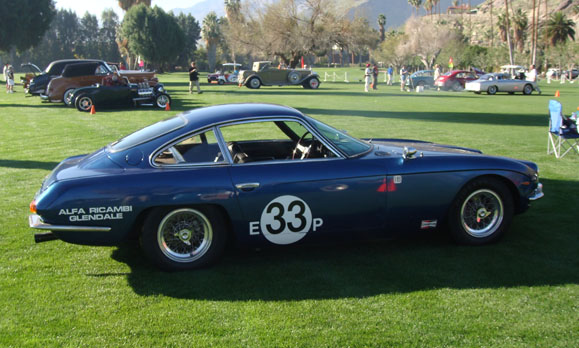 Jerry Galich a long time resident of Huntington Beach, California, ran a shop which specialized in Alfas, and he worked on other Italian cars. He purchased the 400GT 2+2 in 1972, with a spun rod and damaged crank, he then shortly after began the process of completely rebuilding the engine.
This early production car, #0586, was originally imported to Mexico with a speedometer in kilometers and non-US Amber and Red taillights. Although silver, Jerry had the car repainted Firemist Blue, over previous yellow paint job.
Jerry entered the car in La Carrera III, held September 18, 1987, which ran from San Felipe to Ensenada, Mexico, a 116 mile race. He installed a set of borrowed Miura-type wheels, shoulder harnesses, and a fire extinguisher. All the cars that entered were race prepped, except the 400. Jerry placed 16th out of 90 cars, with his son and co-pilot Vic. During the last portion of the race, he was dueling with two policemen in a Dodge Shelby (Charger CSX?) and as they tried to pass him, he decided not to downshift, just layed on the throttle and stayed ahead.
In 1997 Jerry sold the car to Aaron A. Arnold, from Texas. Although his intentions were to restore the car to its original state, VLG group members have convinced him to leave the car as it is in its race decor, as it is believed to be the only 400GT 2+2 ever entered into a real race. He rebuilt the 6 weber 40DCOE carbs and installed a set of points to get the car running again, and was slowly sorting the car out to get it on the road.
In May of 2004 Perry Mansfield MD a resident of La Jolla, California purchased the car from Aaron A. Arnold, the car was in non-running condition when he got the car.
He decided to take the project of getting this special 400GT 2+2 back on the road leaving its race decor as it being the only 400GT 2+2 ever enter a real race. With Rick Cousineau, Master Technician, and the guy behind Precious Metals by his side they got the car back on road.
Please enjoy these pictures of the car in its current condition as it resides in San Diego, California.
Before
After