Crypto for Cars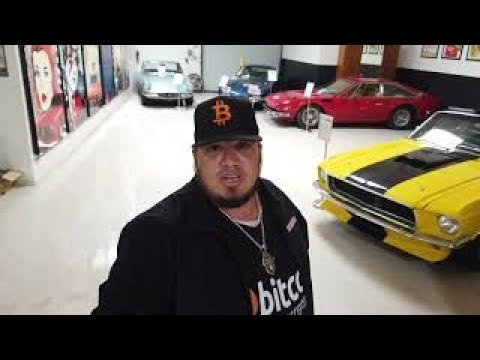 Precious Metals is always continuing to strive for success and accommodate our clients. We are Now proud to offer alternative payment methods for Crypto Currency such as Bitcoin (BTC), Ethereum (ETH), Binance (BNB), and soon to be accepting all forms of Digital Currency. Buy direct from your Coinbase.com , Crypto.com , Binance.com , PayPal wallets and Others… As Blockchain technology is quickly growing and becoming wildly acceptable the Fundamentals of these Tokens and Alt Coins are at a point we can operate with to serve you better.
Do you Hold (HoDL) a large wallet of Crypto Currency?
Are you looking to liquidate your Digital Gold for a Hard Asset that also has the potential to grow and appreciate in value?
Then look no Further then this new "Ground Breaking" method of Transferring your Crypto Funds to a Classic, Vintage or Exotic Automobile. The Classic Car Market has risen over 300% in the past decade+ and some vehicles have even exceeded that amount. They are offered with clean titles you can transfer or sell yourself, it's an asset you can touch, feel, use and enjoy!!! We also offer a consignment and purchase programs for selling outright in the instance in which wish to simply dispose of your wallet.
There is no better way or better time to transfer your Bitcoin and Crypto Currency Gains then into a Vintage, Classic or Exotic Automobile then now and working with us. We are one of very few Automobile Boutiques to offer this new service and we simplify the process for you. We handle all DMV paperwork and transfers, we orchestrate shipping Worldwide and provide you with the car of your dreams in a smooth, safe and efficient manner with immediate confirmations. The fast pace Digital Crypto Currency World interacts with our streamlined process to offer the same quick comfortable and transparent activity of the Coin.
Auto Broker Service
Since the Crypto market is new to most people and businesses, you will not find many Automobile Dealerships, Auction Houses or Vehicle Sales Outlets operating in Crypto. This is also another method we strive to serve you better. You can hire us as your Broker to Buy, Sell or Consign a Vehicle in Crypto Currency. You can pay us directly; we can operate on your behalf to orchestrate the entire process with any Dealer or Private Party who does not wish to conduct business in Crypto or is un-familiar with the process. We eliminate any and all obstacles from the Buyer and Seller, Transfer Digital Funds for Cash, Pay-out and Buy the assets on your behalf.
Do not miss out or lose a deal because one side of the negotiation is not Equipped, Knowledgeable or Hesitant to handle such a transaction. Let our reputation as a 20-year Strong Honest Licensed California Dealer #58282 work with you to never miss a deal.
Call us Today to discuss a wide range of possibilities (619) 515-2220 on Whatsapp at (619) 451-2130 DAVID YOUNG.